LEES HEATING AND AIR – DUCT CLEANING
Duct Cleaning Unlike Anything You Have Seen Before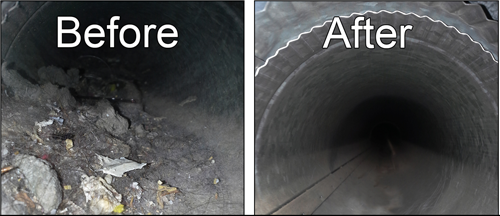 Having your air ducts cleaned is a task that can go completely overlooked for years mostly due to the fact that all the allergens and pollutants that collect in your ducts are rarely ever seen. Lee's Heating and Air now offers a unique air duct cleaning service far beyond what you have ever seen before. The build-up of dirt is pushed through your duct work and into an air tight collection unit with the use of our unique state-of-the-art Hypervac system. Video surveillance allows you to see the cleaning process in action.
Lee's Heating and Air suggests you take certain considerations when determining if your ducts require cleaning. Air pollutants in your home are nearly inevitable. They can originate from everyday life activities such a cooking, burning candles, smoking and even from pets or simply living in a dusty area. If you have specific respiratory concerns for yourself or your family such as asthma, mold or allergies you should have your ducts inspected and cleaned regularly to assure better air quality.
If you have never had your ducts cleaned or if you are just moving into a new home, duct cleaning should be at the top of your list of things to do. Without a detailed history of the home there are countless pollutants that you and your family could potentially be breathing in such as pet dander, smoke and other allergens. In the case that you are remodeling any part of your home you should schedule for your ducts to be cleaned once the renovations have ceased in order to guarantee that any dust created by the construction does not settle in your ducts.
Lee's Heating and Air always offers you with the highest quality work at a reasonable price. At Lee's we understand the need to have clean air for your family to be comfortable and healthy. Lee's certified technicians can perform the cleaning at any time of year. Unlike other duct cleaning services, at Lee's you don't have to worry about leaving your doors open during the winter due to the unique Hypervac system.
To learn more, or schedule your Hypervac duct cleaning service, call Lee's Heating and Air today at (801) 747-LEES (5337) or fill in the form on the right and we'll call you back shortly.