Installing Your Air Conditioner Since 1930
Warmer weather means needing an efficient air conditioner. Maybe you have one already but it's old and doesn't run as effectively as it used to. Maybe you just don't have one. And here in Utah, we all know just how necessary cool air is during the hot summer months.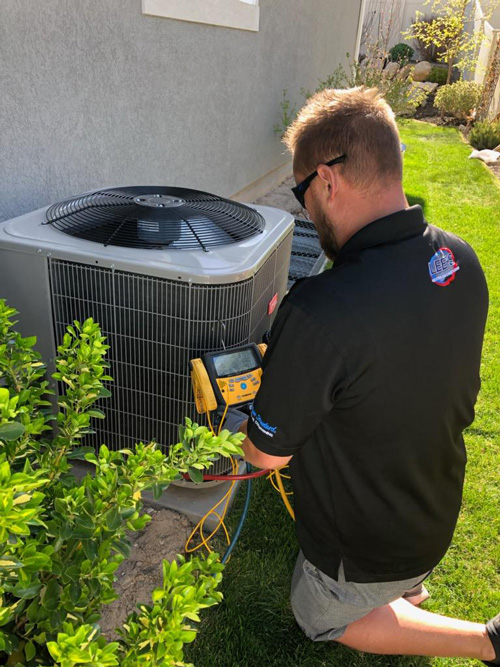 Trustworthy AC Installation Services
Ever since 1930, Lee's has been servicing the greater Salt Lake City area with central air system installations. We pride ourselves in being the very best in the industry. With our team of professionals and top-of-the-line customer service, it's no surprise we've been in business for over 90 years. We take every job with the utmost of care, listening to you, the customer, and devising a plan that will fit your needs and budget.
Just a Phone Call Away
With just one quick phone call, a dedicated member of our team will be at your doorstep. We will take you through the process of going over all your available options.
Every person is different. Every situation is different. And because of that, we go to great measures to make sure that the AC unit you choose has all the features you need and won't go over your budget. Comfort shouldn't have to come at a high price, which is why we price our products and services competitively.
Make an Informed Decision
Once we've gone over all your viable options, we will make our educated recommendation. You want your A/C system to operate smoothly and with little utility cost as possible, after all. Upon agreement, we will write up a proper contract that spells out every detail so you are never left in the dark.
We do this even before work begins so you have the option to go over said contract with a fine-tooth comb. Anything you don't understand or disagree on we can amend. Because we've been at this for so many years, we guarantee that the unit you choose will be sized correctly to your home.
Satisfaction Guarantee
We also guarantee that the installation of your new AC unit will be done correctly and up to code. We understand that if the installation is done incorrectly, you could be left with an A/C unit that wastes energy, money and doesn't run efficiently.
We will never cut corners or skip a step in the installation process. It's too important to get it done right the first time around. Nobody wants to have repairs done to their new unit straight out of the gate!
Same Day Installation Service
Since our team undergoes weekly training to keep us up to par on new technologies, we guarantee there's no A/C unit we can't install. And because our team is so efficient, we can often install the next day, or in some cases that same day! You will never be without air conditioning.
Set Up An Appointment!
Schedule your expert service today. Give us a call at (801) 467-1561 or fill in the form and we will get back to you. We guarantee professional, quick work that will give you the air conditioner of your dreams.
FAQ's
Frequently Asked Questions
It's not impossible, but air conditioner installation is a pretty big job for a DIYer. It's complex, and it involves electrical wiring, which you may not feel comfortable doing. Additionally, the coolant inside some air conditioners can be dangerous and in some areas, you need a license to purchase it. If this isn't enough to discourage you, let us add that you may void your air conditioner's warranty with DIY air conditioner installation if you are not a licensed HVAC technician. 
Salt Lake City-area homes with furnaces that heat the home with forced hot air do so through a ductwork system. Therefore, if you live in an older home with a furnace but no central AC, air conditioning installation is fairly straightforward. 
However, when you have a boiler, your home has either radiators or radiant heat tubes beneath the floor, so there is no ductwork. For this reason, if you decide in favor of central air conditioner installation, you will need to add ductwork to your home. This adds quite a bit to the cost of your air conditioner installation, but it's almost always feasible, and it makes your home much more comfortable and valuable, which is important if you ever want to sell it. 
You may be used to using natural gas for some of your appliances, and you may wonder how much central air conditioner installation would add to your electric bill. The current electric rate in Salt Lake City is 10.75 cents/kWh, and the average air conditioner uses 3,000-5,000 watts per hour, so that's about $2-$4 per day. You can save money by turning your AC unit down when no one is home. But don't turn it down too far — it can take hours for your AC to achieve your optimal temperature when it's too hot in your home. 
As part of our air conditioner installation service, we evaluate your home's needs and make a recommendation to you. We work with several different brands of air conditioners, and we match you with the right one for your needs. We consider your home's square footage, whether your home is airtight or leaky, how high your ceilings are, the amount of sunlight your home gets in the summer and more. But the final choice regarding air conditioner installation always rests with you — we don't reflexively recommend the Cadillac of air conditioners to every customer.