NPE Series
Condensing Tankless Water Heaters
We make it easy to go tankless for residential and commercial applications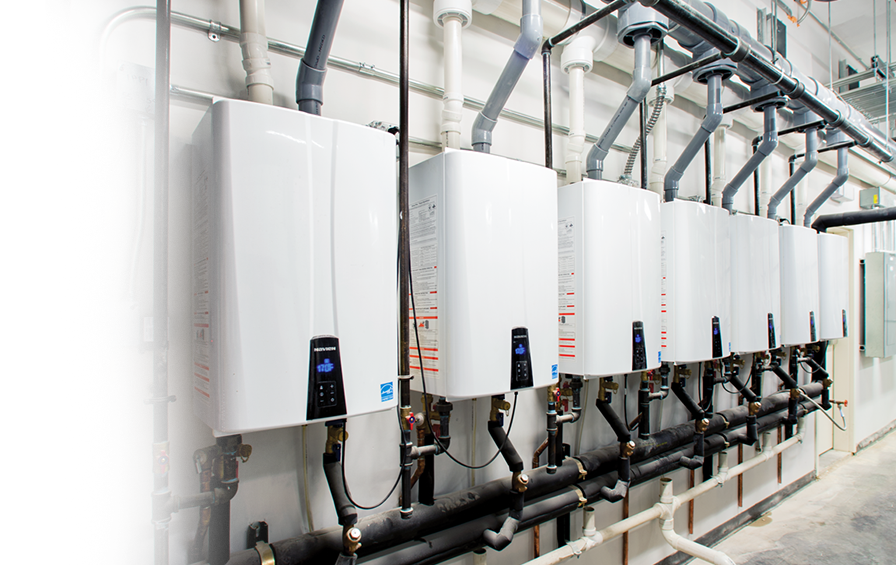 NPE-Standard
Our standard ultra condensing tankless technology with the industry's top rated unit for energy efficiency
More output for the money.

Lower installation costs.

Lower operating costs for the homeowner.

Earn LEED points.

Lower HERS score.

2015 AHR Innovation Award Winner.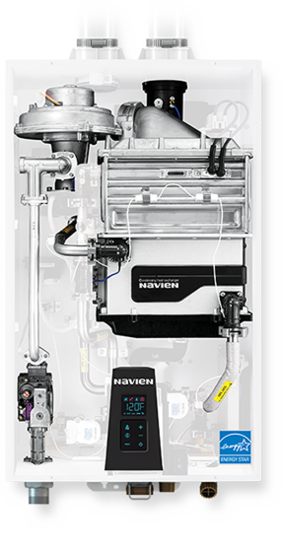 2 inch PVC venting up to 60 feet
No need to cut new chases. Low exhaust gas temps allows use of PVC, CPVC, System 636 and polypropylene vent systems, saving time and money.
Field gas convertability
Negative pressure gas valve and a dual venturi system allows for easy field convertibility from NG to LP operation.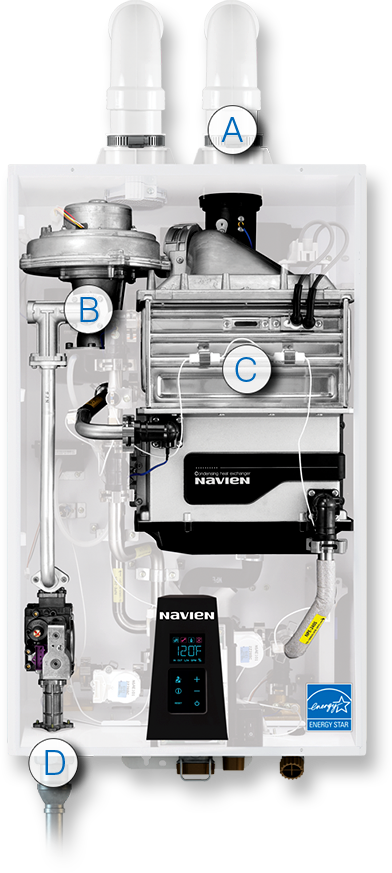 Dual stainless steel heat exchangers
Resists corrosion better than copper to provide longer life.
1/2 inch gas pipe capability up to 24 feet
Cut installation time, not new gas lines for retrofit applications.
When it comes to water heater performance it's all about the output
The NPE-S condensing tankless water heaters are so efficient that they outperform much larger capacity non-condensing competitors. More output for the money, lower installation costs and lower operating costs for customers makes it a smart choice.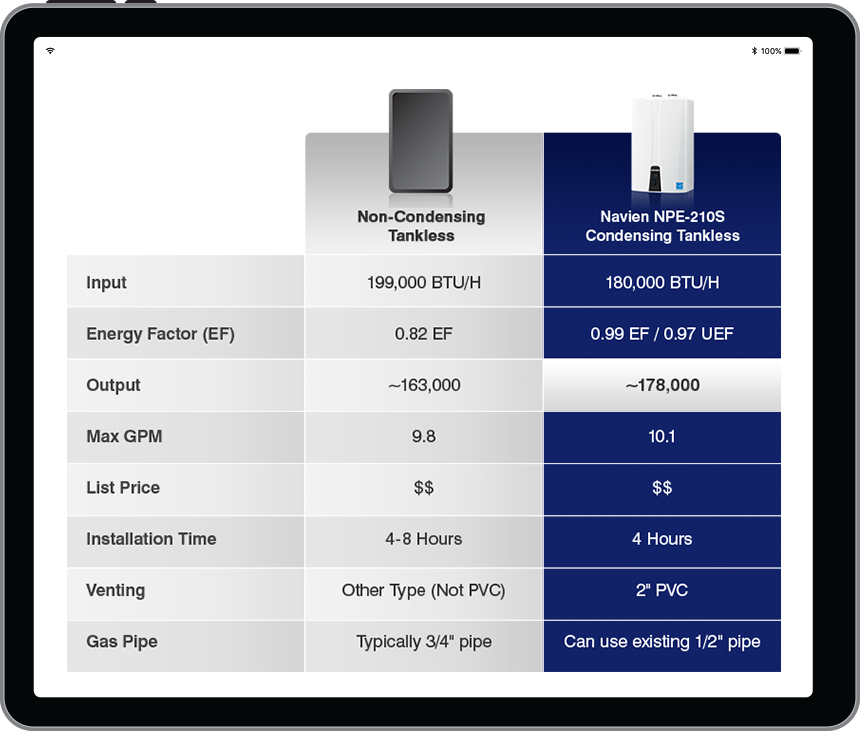 Front Panel Control Center
Self-diagnostics.

Displays temperature and water flow rate.

Displays status of cascade operation.

Convertible display from °F to °C.

User Friendly Interface.

Easy setup.
Cascading up to 16 units and common vent up to 8 units
Cascade up to 16 units with Navien Ready-Link® technology.
With Navien's Ready-Link® cascading technology, when a unit gets up to 80% capacity the next unit will turn on to help meet requirements. The flow on demand ratio will continue until all 16 units are generating hot water as needed. The Navien cascading system also balances out the workload of each unit for longer life.
Common vent up to 8 units
Building penetrations are reduced with Navien's common venting feature.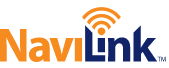 Optional Wi-Fi remote control system
NaviLink makes it easy to communicate with your Navien systems anywhere internet service is accessible. The NaviLink module attaches easily to any new or existing* Navien NPE Series tankless water heater, NCB-E Series combi‐boiler and NHB Series boiler.
* Existing installations may require the purchase of a new main PCB and front control panel. Units produced on or after 2-22-16 will be compatible out of the box.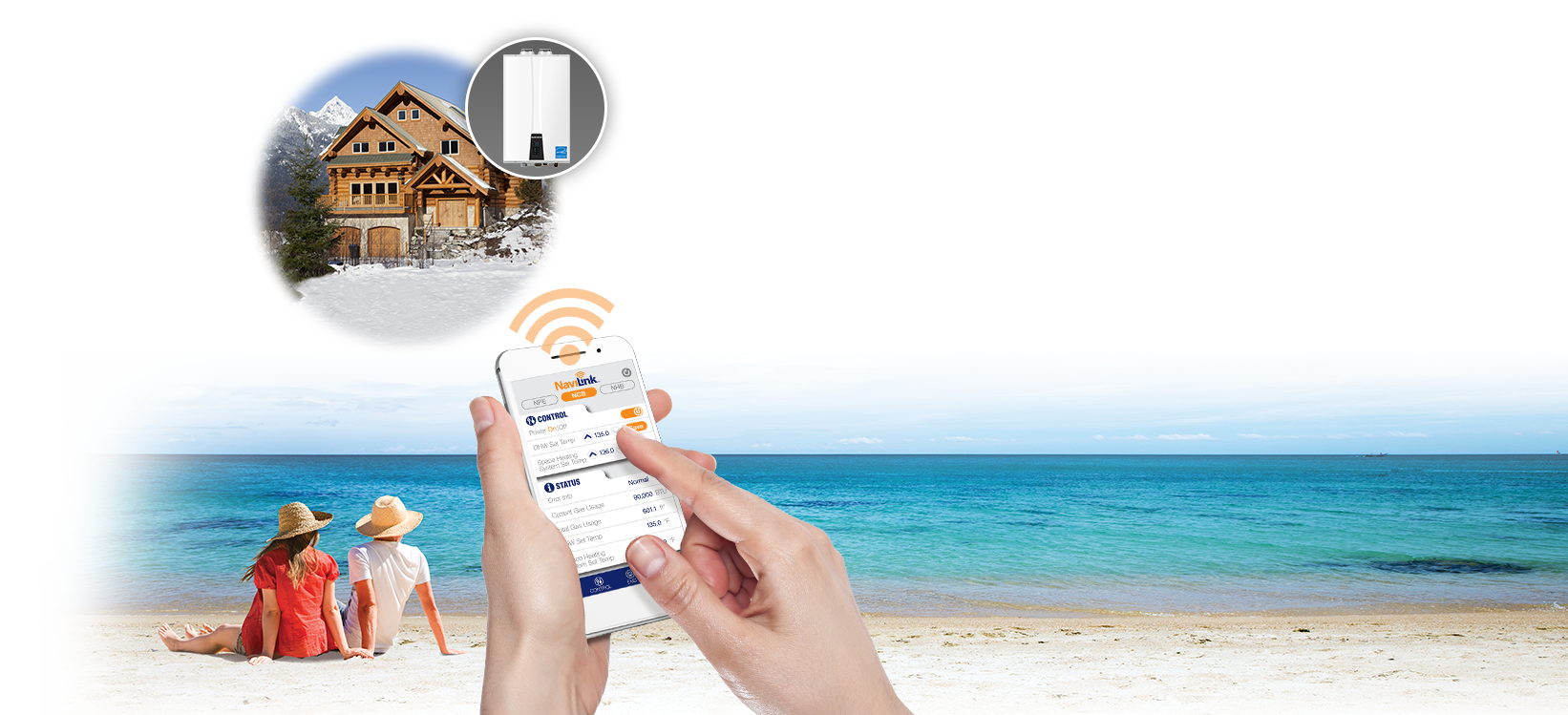 Ready-Link® Manifold System for mounting on a wall or rack
Simply no waiting for factory racks.

Simply easy to install…same day.

Simply more profitable.

Simply visit your local Navien wholesaler and pick up everything you need.

You can sit back and relax because our qualified and experience Utah technicians are a call away whenever you need them.