Nexia brings smart home automation together. Whether you're purchasing your first smart home system or searching for faster smart home management options, Nexia has the solutions you need.

Stay in Control
The Nexia™ Home Intelligence system allows you to monitor and control the temperature in your home via most web-enabled cell phones, computers, and tablets. For added convenience and total home automation, Nexia allows you to remotely turn your lights, appliances on and off.
So no matter whether you are going on a vacation or to your friend's house for a night, you can give an impression that someone's home by setting up the system.
Automation Made Simple
Nexia Home Intelligence system makes home automation simple, and accessible. It delivers flexible control over your home for just a small amount every month.
When paired with an AccuLink™ Platinum ZV or AccuLink™ Remote Control, along with American Standard furnaces, heat pumps and air conditioners boasting the AccuLink™ Communicating capability, Nexia makes it easier to manage your energy usage and lower your home's carbon footprint.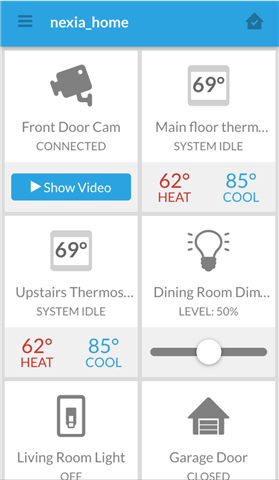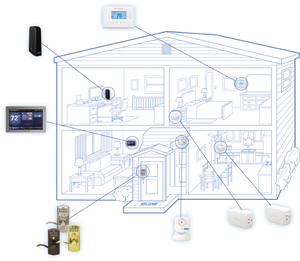 Degrees of Expectation
Keep your home as cool or cozy as you like – even from afar. Control your heating and cooling system from anywhere through the Nexia app, so you can feel perfectly comfortable as soon as you step through the door.
Security in your Hands
Do you often forget to lock the door or close the garage? Instead of driving back around the block, get an alert and lock or shut the door with the Nexia app.
So what are you waiting for? Convert your home into a smart home.
One App for All of Your Smart Devices
Streamline your smart home system with the Nexia app. Compatible with every smartphone operating system, the all-in-one home automation app is designed to give you access to all your connected devices in one place.
More Than You Expected
With Nexia, you have the flexibility to monitor and control your home's temperature, locks, lights, and even your garage door from virtually anywhere.
Nexia™ Home Intelligence combines wireless technology and simple web access to make everything in your home speak one simple language.
Adjust home temperature and manage energy use remotely using most web-enabled cell phones or computers.*
Assign up to 19 private four-digit codes for family members

Receive instant texts and email alerts when codes are used

Set recurring codes for housekeepers or frequent guests

Add, delete or change user codes remotely

Program lights to turn on/off at different times of the day

Schedule your lights to turn on when lock code is entered
Get Started Today
Nexia's home automation system delivers personalized, flexible control over your smart home, all for just $9.99 per month.
To learn more, get in touch with Lee's Heating and Air professionals. Call us today at (801) 467-1561 or fill in the form to schedule an appointment.
All appointments are made to fit within your busy schedule.
*The Nexia™ Home system requires a monthly subscription fee to enable remote access.
**Subscription service is $9.99 per month.
FAQ's
Frequently Asked Questions