Commercial Heating and Cooling Repairs
Commercial heating repairs are inevitable. At Lee's Heating and Air, we know that problems with a company's HVAC system can compromise its bottom line if not dealt in an efficient and professional way. Because commercial HVAC equipment varies in size and type, it requires a different level of expertise than servicing residential heating and cooling systems.
Commercial HVAC Repair Improves Reliability
Commercial heating and cooling equipment can be much larger, usually handling more intense use and heavier heating and cooling loads than residential equipment.
Moreover, being more complex in setup, it often has controls that need to be programmed for the system to work properly. Our certified trained technicians are equipped with the knowledge and skill to meet all of your installation, replacement, repair, and maintenance needs.
In the business world, there is no room for HVAC breakdowns. As one of the best commercial HVAC companies, we understand that every commercial HVAC system demands immediate attention.
We offer same-day visit, emergency HVAC services to make sure your business does not come to a screeching halt when the HVAC system breakdown.
Furnace Stopped Working Unexpectedly
If your furnace isn't blowing hot air, it's time to call an HVAC expert offering commercial HVAC services. While the issue could be as simple as the thermostat not working, sometimes it can be more complex. Instead of opting for the DIY approach, make sure to get in touch with the experts.
Common Furnace Problem
Some of the reasons why your furnace may not be working include:
Clogged filters

Worn sensors

Thermostat improperly programmed

Switch failure

The pilot light is out

Electronic component failure
Whatever the problem is, Lee's commercial heating repairs professionals will quickly diagnose the issue and offer the best solution.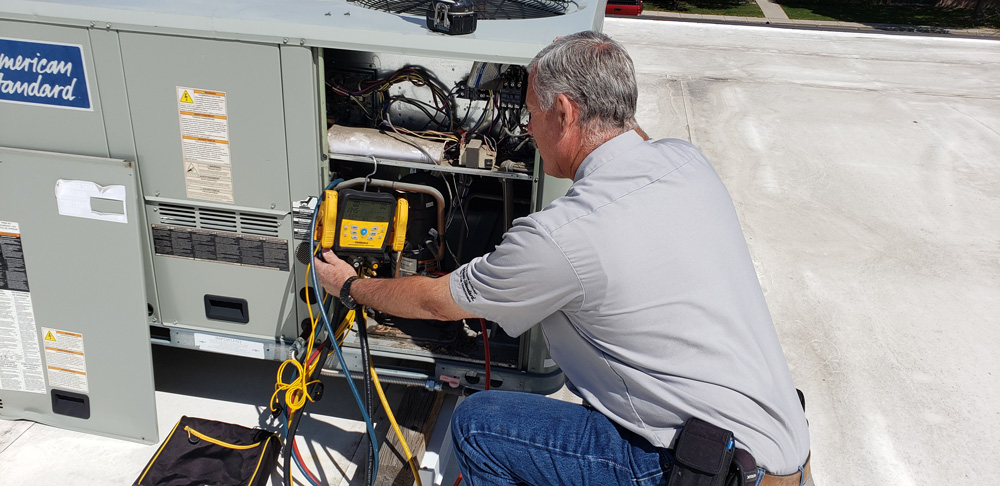 Your Satisfaction is Our Priority
We have been serving our customers for over nine decades and have always called ourselves the "Experts Who Care". In fact, we have built our entire business model and reputation around this ideal.
Lee's has been in business since 1930 and won several service awards including most recently being named the American Standard 2019 Dealer of the Year.
We value our long term relationship with our customers and aim at offering 100% satisfaction. We offer upfront pricing so that there are no surprises in the end.If there's an emergency with your HVAC system, give us a call right away!
Hire one of the Best Commercial HVAC Companies
It's never fun when the furnace breaks down and you are left to fend yourself from the cold just before an important meeting.
A Professional tune-up and inspection is recommended at least twice per year, and filters in most cases should be changed quarterly. Routine maintenance of your commercial heating and cooling equipment ensures safe, efficient operation in addition to preventing unexpected failures or costly repairs before they occur.
Lee's Heating and Air offers commercial HVAC service plans that will protect your investment. Call or contact us today for a free estimate on our Commercial Service Plan.