AC Maintenance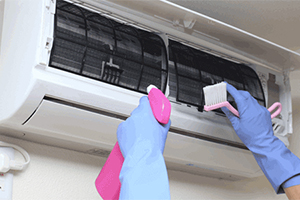 Lee's Air Conditioner Maintenance Package
Providing the Very Best Air Conditioner Care Since 1930
Air Conditioner maintenance and service is absolutely critical if you want your unit to last through Utah's scorching summers. Let's face it: A costly breakdown can easily be avoided when you employ Lee's Heating and Air to maintain your AC unit.
For over 80 years, Lee's has been providing Salt Lake City and the surrounding areas stellar customer service in the AC business. As a matter of fact, our service department has been with us an average of 7 years and many of our technicians have tenure. This just goes to show how seriously we take our job and just how much we value you. By using us to maintain your AC unit, you will be using the very best.
Our AC maintenance package includes a professional cleaning to your AC unit and its adornments, as well as performing any adjustments that might be needed, as well as a full-scale safety inspection. We never cut corners when we work with your A/C unit because we understand that if just one minor detail gets overlooked, your whole system could break down right when you need it the most. With our proactive maintenance, you will be increasing the longevity and efficiency of your cooling system, as well as cutting back on your utility bills.
It's this focus on detail that brings back many, many loyal clients.
And we stand behind our work. With our Lifetime Guarantee service, you can rest assured that your AC system will never be without the proper care. And what's more, we do it for a fraction of the price compared to our competitors. This is why we have competitive pricing. And we stand behind our one-time, flat rate quote. With Lee's, you will never get hit with an extra bill if perhaps one of our technicians finds something that needs repair or the job runs over time-wise. Your comfort should never have to come with a huge price tag.
We also pride ourselves in being the first Utah certified American Standard Dealer. This just goes to show how heavily we lean on pristine customer service and customer care. All of our professionals go through weekly trainings. This ensures that our knowledge is up-to-date and that our standards always exceed your expectations. This training also allows us to maintain and operate on any AC make and model.
All you have to do is pick up your phone and call us today to schedule your A/C maintenance appointment. We work around your schedule because we understand just how valuable your time is. If you're not ready to commit and still want to shop around, we offer free rate quotes as well. Although, we don't think you will have to shop very far.