Your home is the one place where you should feel comfortable and this feeling will only be enhanced when the heater and air conditioner work smoothly. This is even more important in a state like Utah where weather conditions tend to be a little extreme. Our technicians at Lee's Heating and Air are extremely knowledgeable and able to service nearly every make and model of furnace. We offer 24 hour service, and are available weekends and holidays. For 85 years Lee's has been providing exceptional service to Utah residents. Our goal is to help you have an energy efficient unit which gives optimum performance in all kinds of weather conditions.
Your home's furnace can make a world of difference in the comfort level of your home year round. Furnaces ratings are determined by the efficiency you'll get from each dollar spent on heating costs, for example: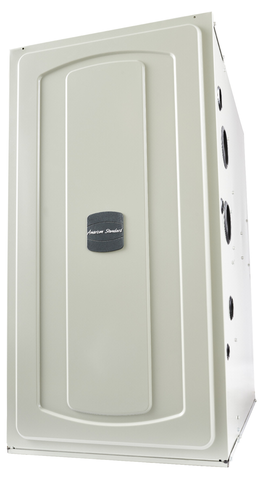 With an 80% efficient furnace for each dollar spent on gas, 80-82 cents of heat will be returned. The remaining 20 cents of heat is exhausted through the chimney. Compared to older furnaces which recovered only 45-65 cents worth of heat, this furnace is an affordable option for your home.
To get the maximum value out of each dollar spent on gas, a 95% efficient furnace or higher is the best option on the market. Each dollar spent in turn brings over 95 cents back in heat to your home.
Types of Furnaces
Two Stage Modulating Communicating
The Two Stage Modulating Communicating furnace provides fully modulating heating, but unlike the two stage variable furnace, it can operate between 40 percent and 100 percent firing rates for ultimate efficiency and comfort control. It converts up to 97.3 percent of the fuel you pay for into heat for your home. It is controlled by the AccuLink/Nexia Thermostat which will automatically communicate and coordinate with your other system components. It is the ultimate in comfort and control.
Two-Stage Variable
The Two-Stage Variable furnace has two stages of heat, a small size flame for those more median temperature days and a larger size flame for those really cold days. This option allows the furnace to stay on longer while burning less gas, to reach the target temperature. It also has a high efficient variable air flow motor, which is designed to run at all times. This improves the efficiency of electricity usage when running the in heating or air conditioning. The furnace actually varies the fan speed, ensuring the right amount of air is always delivered to keep the home and individual rooms at the target temperature. A two stage thermostat should be used to ensure proper operation.
Single Stage
As the name suggests, it has only one stage of heat. This entry level furnace is affordable and easy to repair. However because it has only one stage of heating it doesn't adjust for more median temperatures and will use the same size of flame to produce heat until the target temperature is reached. This can cause it to turn on and then off frequently to keep the home at the target temperature.
Heating and Air Conditioning Installation Maintenance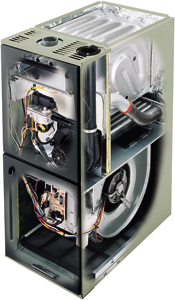 It increases the life of the heating unit and keeps it in excellent working condition.

You will save money by eliminating the costs of frequent repairs, and with a discount on any repairs that are needed.

While your unit operates efficiently you save thousands of dollars on energy bills.

Regular maintenance and servicing protects the warranty.

You can sit back and relax because our qualified and experience Utah technicians are a call away whenever you need them.
FAQ's
Frequently Asked Questions
Like your car or any other possession with moving parts, maintenance will help it last longer and run better, which saves you money. Therefore, we recommend you get furnace servicing at least once per year. During this furnace service call, we will clean your furnace of dust and debris, check the connections and parts, and get it ready for the upcoming winter season. 
When you get annual furnace service in the fall, your furnace is much less likely to break down over the winter, leaving you and your family shivering. By having us preemptively replace worn parts and checking for issues, you avoid expensive and unnecessary furnace repairs. 
Additionally, if you have a gas furnace, you get the peace of mind of knowing that carbon monoxide poisoning is much more unlikely to occur after you get furnace services. 
Our customers in Salt Lake City, Provo and other areas along the Wasatch Front frequently ask us when we are doing furnace repairs or furnace installation what temperature they should set their furnace at. The truth is that if you have an old, drafty home, your furnace will have to work harder to keep you warm than if you had a newer home, or if you updated your old home with new windows and insulation. 
We think you should set the thermostat at the temperature that is comfortable for you. You will read about how much money you can save turning down the thermostat a few degrees — $50, $100, etc., per year, depending on the size of your home. But is that amount of money worth being cold all winter? Only you can decide. 
One of the most common furnace repairs we see at our customers' homes in Salt Lake City, Provo or other surrounding areas is furnaces that are short cycling. That is, the furnace turns on and off frequently without reaching the temperature set on the thermostat. 
The main reason for this is lack of airflow, so the first thing you should do before calling Lee's for furnace repair is to see if your air filter needs changing. An air filter clogged with dust, dirt and pet dander will affect your furnace's ability to run. Additionally, our HVAC techs sometimes discover furnace pipes blocked by rodents' nests. 
Each of these situations is potentially dangerous. The furnace must strain against the blockage, causing it to overheat and shut down before it reaches your desired temperature. If you have a gas furnace, the overheating could potentially cause a spark, and if your furnace is dirty or dusty, this could cause a fire. 
Whenever your furnace is cycling on and off, contact Lee's right away for furnace services.