The Best AC Repair and Maintenance Service in Utah
Here at Lee's Heating and Air, we feel that your air conditioner is absolutely vital when making your home comfortable for you and your family. As you know, Utah's weather can be temperamental, so having an efficient and effective AC unit is pretty important.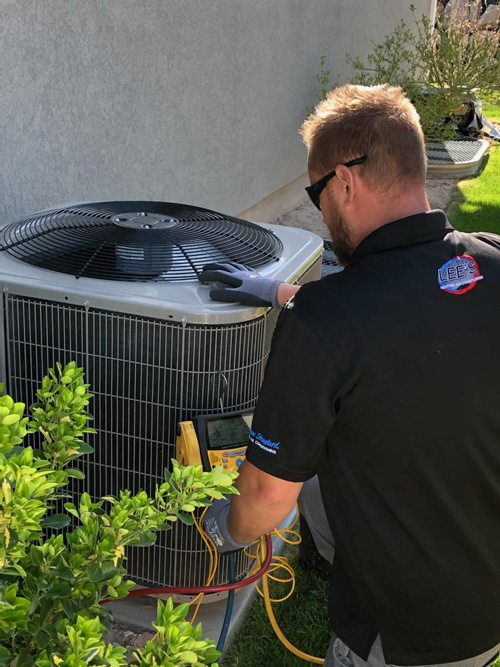 Affordable Air Conditioning Repair Service
Our AC repair and maintenance will ensure that your unit will be fixed in a timely, affordable manner.
We feel your comfort shouldn't have to come at a hefty price, which is why we offer up-front, flat rate pricing. This means that if, upon inspection, we find another issue that needs to be dealt with, we won't throw another quote at you to fix it.
We've never surprised a client with an unexpected bill, and we're not about to start with you! And some jobs run longer than expected. That isn't your fault and we feel that it would be a punishment to you if we didn't stand behind our initial quote.
Flat Rate Pricing
Once we've quoted your flat rate pricing, you have the option to either accept or decline our services. We will never strong-hold you into choosing us. Ironically, it's for this very reason that most of our clients are returning clients or people sent to us on referrals.
Just a Phone Call Away
Rest assured, upon your call, one of our technicians will be at your door in no time. A/C units don't just break down Monday through Friday, 9am-5pm. It's for this reason that Lee's offers around the clock, 24/7 repair services. So no matter the time, day or night, we are here for you.
Certified Technicians
All of Lee's technicians are certified in air conditioning repair and installation. We go through weekly training sessions because this industry is always changing. New technology comes out every day to make your A/C unit run smoother and more efficiently. We feel that it's imperative to stay up-to-date and trained in all A/C advancements.
American Standard Customer Care Dealer in Utah
Because of our training, we were the first American Standard Customer Care Dealer in Utah. This means we were rewarded the highest standard in customer care. We are dedicated to customer satisfaction, which means employee training is high on our priority list.
Get In Touch Today!
You won't ever have to worry about going without air conditioning when the weather gets warm. You won't ever have to sit around and wait for a repair guy to show up anytime between 10am and 4pm.
When you make an appointment with us, whether it's an emergency or not, we will be on your doorstep, ready to help you at that exact time. Punctuality is key here at Lee's. We even keep our vans stocked with all our equipment so you don't lose precious time.
We know you have a choice when it comes to your air conditioner repair services, and we are honored that you chose us.
Schedule your expert service today. Give us a call at (801) 467-1561 or fill in the form and we will get back to you.
FAQ's
Frequently Asked Questions