Lee's Heating and Air Conditioning of Salt Lake City has been providing heating and air conditioning service to Salt Lake City, Utah area homes and commercial businesses since 1930.
Lee's Heating and Air Conditioning is proud to be Utah's only American Standard Customer Care Dealer. As a multi-year recipient of the "American Standard Dealer of the Year Award" for the state of Utah. Lee's has served Utah communities with reliable, affordable, and EXPERT service.
American Standard Customer Care Dealers
American Standard Customer Care Dealers are here to make you HVAC installation and maintenance decision comfortable and hassle-free. Lee's experienced dealers are here ready to listen, evaluate, and find solutions that work for your needs and your home.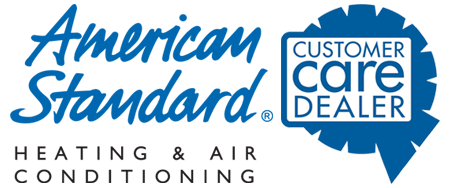 Benefits of Hiring American Standard Customer Care Dealers
Highest Standing

American Standard Dealers are picked to be Customer Care Dealers because they have proven commitment to excellence, customer services, and product knowledge.

Customer's Opinion Matters

American Standard customer care dealers are always looking for ways to improve the customer's experience. Customer satisfaction is of paramount importance and is considered as the best way to gauge the dealer's commitment to customers.

Trained Specialist

American Standard customer care dealers are committed to understanding the latest technologies. Lee's technicians often undergo regular training to help you get your hands on the best system that achieves reliability, maximum efficiency, and comfort.

Upgrade your existing HVAC system with an American Standard Heating and Air Conditioning system. When dealing with an HVAC technician, look for the badge. If the dealer is wearing a Customer Care Dealer badge, you are dealing with the finest heating and air conditioning professionals in the business.
Why Choose Lee's Heating and Air?
Lee's Heating and Air service experts ensure that your unit is fixed in a timely and affordable manner.
Flat Rate Pricing

Once we've quoted your flat-rate pricing, you have the option to either accept or decline our services. We will never strong-hold you into choosing us. Ironically, it's for this very reason that most of our clients are returning clients or people sent to us on referrals.

Just a Phone Call Away

Rest assured, upon your call, one of our technicians will be at your door in no time. A/C units don't just break down Monday through Friday, 9am-5pm. It's for this reason that Lee's offers around the clock, 24/7 repair services. So no matter the time, day or night, we are here for you.

Certified Technicians

All of Lee's technicians are certified in air conditioning repair and installation. We go through weekly training sessions because this industry is always changing. New technology comes out every day to make your A/C unit runs smoother and more efficiently. We feel that it's imperative to stay up-to-date and trained in all A/C advancements.
We are Here to Help!
Lee's Heating and Air are your American Standard dealers who are known for their superior product knowledge and commitment to customer satisfaction.
Lee's Heating and Air is proud to be the Salt Lake area American Standard dealer and can help you make a great choice on industry-leading cost-effective products.
To learn more, contact Lee's Heating and Air today at (801) 467-1561