Gas Furnace Repair Service Is a Necessity
A majority of homes here in Utah use gas furnaces to heat them during the colder months. If your furnace malfunction during cold winter month, you will feel uncomfortable dealing with the cold weather.
Lee's Heating and Air is one of the longest standing gas furnace dealers in the state of Utah servicing residents for over 90 years. Lee's can install a new gas furnace, or provide expert long-term gas furnace service for any brand, make or model of existing furnace.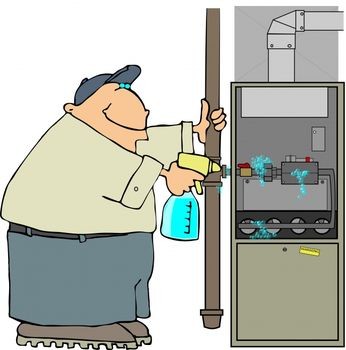 Why Choose a Gas furnace?
Winter in Utah can be chilly and it is incredibly important to equip your home with a heating system that will keep you and your family warm. The best way to do it is to invest in a furnace, particularly a gas furnace.
Gas furnaces come with plenty of benefits.
Efficient

Nowadays, gas furnaces are over 95 percent efficient. This means 95% if the fuel is being used to heat up the home with minimal heat loss and waster fuel.

Inexpensive

As compared to electricity and other gas options, natural gas is relatively inexpensive. Moreover, it is widely available which makes it easy to use.

Effective

Gas furnace heats up your home effectively and fast. When you tune on the system, you can expect your home to reach a comfortable temperature within no time.

Environmentally-Friendly

Natural gas is considered to be the cleanest burning of fossil fuels. When you choose natural gas over other types of gas, mother earth will thank you.
Is Your furnace Working Efficiently?
Gas furnaces can be extremely efficient leading to more cost savings on your utility bills.
In order to calculate a furnace's energy cost, there are a couple of key factors to consider. The amount of gas it burns and the electricity your furnace uses to run the blowers and controls. Then you take the annual fuel-utilization-efficiency (AFUE) rating, measured by percentage.
A furnace built 30 years ago would have an AFUE rating of 65%, but today furnaces are built at a minimum 78% rating with many high-efficiency models seeing an AFUE of about 97%.
Why Your Home Need an Efficient Gas Furnace?
Did you know a significant chunk of your utility bill comes from your furnace system, especially during winters?
With prolonged period of usage, the efficiency of your gas furnace drops significantly, leading to higher energy bills. This is why it is important to invest in a high-efficiency gas furnace to cut down on your utility bills.
Early Bird Furnace Tune-Up Special
Like any furnace, a gas furnace requires proper maintenance and Lee's Heating and Air encourages you to take advantage of their Early Bird Furnace Tune-Up special, where you get a detailed 17-point inspection for just $59.
Lee's also offers a special regular service program called the comfort club (a preventative maintenance program) which includes a tune-up and cleaning, a replacement furnace filter, and special discounts on services throughout the year.
Hire Gas Furnace Service Experts
Eager to learn more about the great special offers? Call Lee's Heating and Air at (801) 467-1561 or just fill in the form to have our friendly staff give you a call right away.