AC Service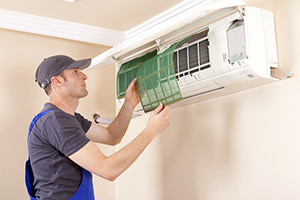 Lee's Air Conditioner Maintenance and Service
Maintaining Your Air Conditioner for Over 80 Years
Here at Lee's, we have a long standing history of providing you with the best possible ac service in Utah. We first set the standard back in 1930, and for over 80 years, we've dedicated our lives to your care. Sure, the technology looks a lot different now from back then, but just because the technology changed, that doesn't mean our aim for 100% customer satisfaction needs to change.
You see, government agencies like the EPA (Environment Protection Agency) suggest that you have your AC unit checked out once a year. This yearly maintenance is what ensures your system is working properly and efficiently. And regular maintenance is required for validating your Manufacturer's Warranty.
Many people don't know it, but a faulty or malfunctioning AC unit will cause your utility bill to creep up over time. Imagine a heart full of plaque: Eventually all that plaque will cause the heart to fail. The same reasoning stands behind your A/C system. With regular maintenance and service, you can be assured that your system is running smoothly and without hiccups. Something as simple as a dirty filter can cause your AC motor to work harder, producing less adequate air flow. And when the weather heats up here in Utah, that's a recipe for disaster. Without proper service, a simple problem could turn into something costly and potentially dangerous, if carbon monoxide is being produced.
Lee's certified technicians will run a full-scale tune up to your air conditioner. This tune up includes a professional cleaning, adjustment and safety inspection. We offer flat rate pricing as well. This is to say that, upon inspection, if our technician finds something that needs to be replaced or repaired, we won't come at you with another bill.
We take our job and your comfort very seriously. It's why we've been in business for so long, after all! And it's why we were the first American Standard Customer Care Dealer in Utah. Because of our quality care and service, we have a high rate of returning maintenance and service clients as well as many clients who come to us upon referrals.
We operate on all A/C makes and models, which means that all of our technicians go through weekly trainings. The A/C industry is ever changing, coming up with better units that will run longer and more efficiently. Here at Lee's we pride ourselves in being up-to-date on all new developments. There's no system we can't service and we promise to do it at an affordable price.
By allowing our technicians to care for your air conditioning, you will increase the longevity and efficiency of your unit. Call us or schedule your appointment online and we will gladly service your air conditioner.